by Alan Ayckbourn

Auditions: Mon 7 Jan 2019 7.30pm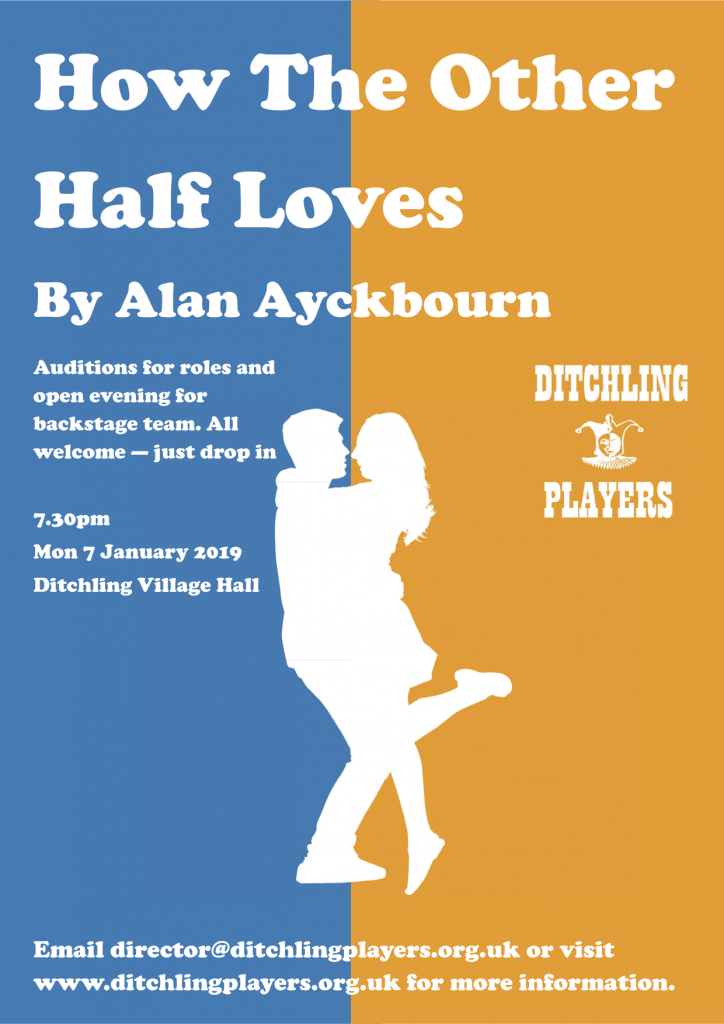 Well the curtain has come down on our autumn production of And Then There Were None and I do hope you managed to get along to see it and enjoyed the evening.
Before we've even finished 2018 our minds are now turning to our spring production which we hope will be 'How the Other Half Loves' by Alan Ayckbourn. The production dates are 15th – 18th May and we will be holding auditions for the production on Monday 7th January 2019 at Ditchling Village Hall at 7.30pm. The play follows the consequences of an adulterous affair between a married man and his boss's wife and their attempts to cover their tracks by roping in a third couple to be their alibi, resulting in a chain of misunderstandings, conflicts and revelations. There is a cast of 3 couples – Frank and Fiona Foster; Bob and Teresa Phillips and William and Mary Featherstone. The well-to-do Frank and Fiona have a polite and emotionally distant relationship, while Fiona is in a secret affair with Frank's employee Bob, whose marriage with Teresa is very stormy. Into this mix comes the completely innocent William (another employee of Frank's) and his wife, Mary, both of whom believe their spouse to also be having an affair!!
This is sure to be a very funny play and we look forward to seeing you at the audition, whether it's for one of the roles or to help, in whatever capacity, back stage.  If you'd like more information or are unable to make the audition date and would like to be considered for a part please contact the director, Penelope Bennett on director@ditchlingplayers.org.uk  We look forward to seeing you on the 7th.