by Alan Ayckbourn

Wed 15 – Sat 18 May 2019, Ditchling Village Hall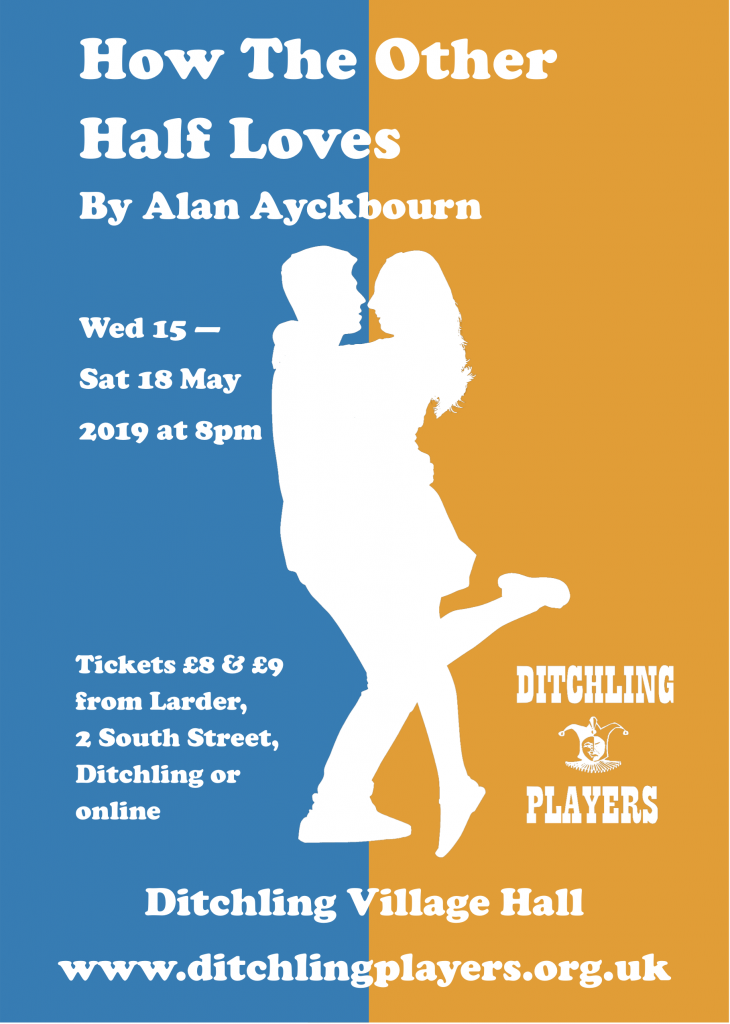 Our May 2019 show was How the Other Half Loves by Alan Ayckbourn with performances from Wed 15 May – Sat 18 May.
The play revolves around three couples: Frank and Fiona Foster; Bob and Teresa Phillips; William and Mary Featherstone. Frank employs both Bob and William and is considering promoting the latter. Bob is having an affair with Frank's wife Fiona and is in constant conflict with his own wife, Teresa. She feels Bob is neglecting her while she raises their baby and is suspicious of his actions and phantom phone-calls made to the house. When he returns late, she confronts him about his actions and he lies that he has been comforting work associate William, who believes his wife Mary is having an affair. All of this comes to a head over a meal on 2 consecutive nights in two different houses but viewed on the stage at the same time!!

Alan Ayckbourn is an Olivier and Tony Award winning playwright. He lives in Scarborough, North Yorkshire, and has written more than 80 plays, many of which have been produced in London's West End and New York as well as around the world. During 2019 he will celebrate both his 80th birthday and the 60th anniversary of his professional playwriting debut.
In 1967, Ayckbourn achieved overnight success when 'Relatively Speaking' opened in London's West End. As a result of this, there was considerable interest in its successor which opened three years later in London. The play was 'How the Other Half Loves' and it proved that he was far from a one-hit-wonder and had the makings of a playwriting force to be reckoned with.
It's therefore appropriate that in this milestone year (it's also the 50th Anniversary of How the Other Half Loves) the Players have chosen this as our 2019 spring production.
The Players are pleased to welcome some new faces to the Ditchling stage for this production and look forward to also seeing you in the audience.